Gardening & Grounds Maintenance
Creating a welcoming 'home away from home' environment for fly in / fly out workers
Client & Department
RTIO Site Services
Location
West Angelas
Maintenance Service
Gardening and Grounds Maintenance
Value
$600-800K pa
Date
Since 2011
Project Duration
5-10years
Scope of Work & Disciplines
Grounds and Gardening Services and a range of landscaping and beautification initiatives:
mowing lawns and trimming edges
weeding and control of miscellaneous plants and grasses
pruning plants and maintaining potted plants
operating and maintaining the reticulation systems
removing vegetation debris
applying fertilisers, soil wetting agents and pest control measures as required
creating and maintaining a nursery to support the supply of plants
removing and replacing dead plants
maintaining healthy vegetation cover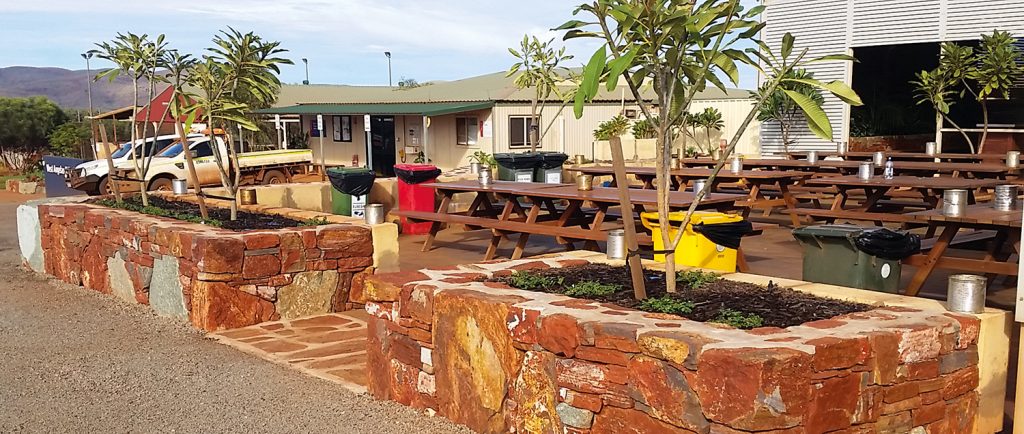 Key Challenges
Developing highly appealing 'green' areas in a harsh environment, to create a welcoming 'home away from home' for fly in / fly out workers. Recognised by both client and visitors as "the Holiday Resort of the Rio Operations Centre in the Pilbara".
The Pindari Advantages
Pindari's team has exceptional skills in additional landscaping and beautification works including;
Design and installation of stone features, retaining walls and planter boxes (both internal and external)
Irrigation and reticulation system design and installation
Other Info.
Consistent Indigenous employment with an average 25% Aboriginal representation, including Traditional Owners from GMY Group.